Trip Info
Battle of the Bulge

---
Duration
---
Group size
---
Prices
---
* Depending on group size and duration.
Departure
Subject to availibity:
Every day of the week except for Sundays and Mondays
Start at Brussels or Amsterdam
---
Topics
Baugnez 44 Historical Center
Route 44 Peiper

St. Vith

museum "Le Mess"

remains of the Siegfried Line

Mémorial du Mardasson

Wiltz
---
Booking
N.B. reservations should be made at least 14 days in advance
( but you can always give it a try )
Battle of the Bulge
This famous battle, being Hitler's last desperate attempt to push back the allied troops in Western Europe in the winter 1944/45, does not need much of an introduction. In the heat of the battle nearly a million soldiers were involved, with a death rate that equals the infamous slaughters of the Great War.
This tour focusses on three different geographical sections of the more than 80 miles of frontline, and includes detailed descriptions and visitations to key battlefield locations. The following description covers a relaxed yet detailed 4-day programme but an adjusted 3-day tour is also possible.
---
Day 1 – The Northern Section:
After pick up our first stop is the American cemetery at Henri-Chapelle. Most of the men buried there died during the Battle of the Bulge. Second stop is Baugnez 44 Historical Center, at the place where the troops from 1st SS Div. Leibstandarte SS Adolf Hitler massacred 84 POW's. From this location onwards we will follow the route from the infamous Peiper-command up till the point where it came to a halt. On the way there are many sites that commemorate the fighting.
Day 2 – The Mid-Section:
This day is dedicated to the horrible battle fought by the 106th (Golden Lion) Infantry Division under very bad weather conditions. Their objective was to hold the so-called Schnee Eifel. After a valiant effort, two complete regiments of unexperienced yet determined soldiers were wiped out after having been surrounded.
Due to this defeat the important town of St. Vith fell into German hands. St. Vith, foxholes, monuments, remains of the Siegfried Line, Engineers Cut-Off and Skyline Drive are on the programme.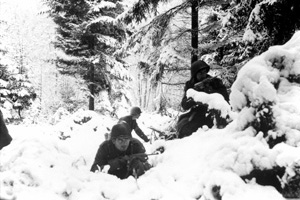 American soldiers during the Battle of the Bulge
Click on the image to enlarge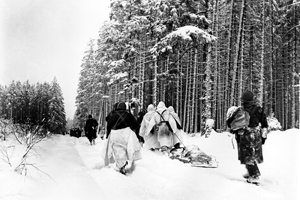 American troops with a heavily loaded ammunition sled
Click on the image to enlarge
Day 3/4 – The Southern Section:
This day is dedicated to Bastogne and the surrounding area. A visit to the 101st Airborne museum "Le Mess" is a must. After a stop at the town of Bastogne and the "Mémorial du Mardasson", we will leave for the country-side. An extended tour takes you to many hotspots from the Battle for Bastogne, including the "Band of Brothers"-forest. A 4-day tour includes a visit to the town of Wiltz and vicinity in Luxemburg with its special monuments. This is where the horrifying "Café Schuman"-battle took place. In the afternoon we end the tour with a museum of choice.
---